The Family J decided to have a trip to the coast to mark the end of Half Term & to generally get some sea air. Mr J has a cold & son & heir has got rid of his tonsillitis. Me? A quick look in my school planner says I
havn't
got time for as much as a sniffle until two weeks on Tuesday! Our chosen destination was
Staithes
, for those not
familier
with this part of the world it is an old fishing village some 10 miles to the north west of Whitby, noted for its fossil coast & general quaintness. A Fish
n'chip
opportunity in Whitby was also planned! Here are some pictures from our roving's.
Warning: This will be a photo heavy post!
The first picture shows
Staithes
from the beach.
On a geographical/ geological note the area was once a shallow delta in a tropical
paeleoenvironment
where the slow moving current laid down layer after layer of the
Lias
sediments. These sediments contain many fossils & the coast is sometimes called the '
Dinosaur
Coast'.
We didn't find any
Dinosaur
remains but other fossils were easy to spot & not too difficult to photograph.
The rocks along this coast are easily eroded & whilst we were able to walk along on
the extensive wave cut platform, the fragility of the cliffs was all too easy to see.
Erosion also produces some strange shapes on the wave cut platform!
Whitby took us a little by
surprise
! It was
'Goth weekend'
& the town was full of ....Goths! This is one of the many pictures I found when I 'googled' Goths & Whitby. It is a bi-annual affair!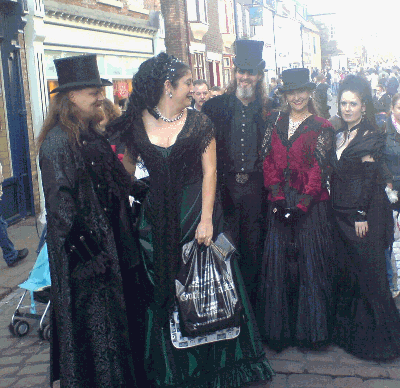 The fish & chips were good & less surprising!
On the yarn front! I have completed the toe up River Rapid socks & thus my second Ravelry Sock Knitters antonymous challenge. I just get in under the wire for the September challenge & am in time to cast on for October. I am going to knit Nancy Bush's sock pattern 'Whitby' for son & heir. He seems to favour red socks for casual wear (actually that means his school rugby socks) & so I have bought some DK King Cole pure new wool in Red. I will have to have another lot of socks on the go for when he is around but will make that the November challenge. They will be another gift. Nuff said! I mentioned that I would try the Elizabeth Zimmerman's sewn cast off for the toe ups & I did. I am pretty pleased with the results.
Neat, stretchy & not too wavy despite the K6, P2 rib that I finished with. The photo is pre-blocking. I will also take this opportunity to include something REALLY unusual! Something I made with the 'single stick with the hooked end' last winter. I got a bit carried away on my first chain 'row', so it winds round & round my neck but its really warm & has attracted many compliments. It was one row of single 'triples' then a second row of two 'triples' into each single triple on the previous row.
The yarn was an aran weight something with lost of lovely colours in (sorry -it was pre blogging & Ravelry!).